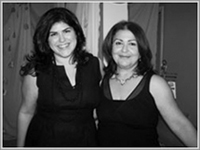 Niche is a line of modern soft separates with rich textures and textiles, and distinctive architectural details. The Niche collection is made in central Texas and is found in select Dillard's stores, Dillard's Direct, specialty boutiques in nearly every state, and in top retailers from Canada to Kuwait.

Designer NilgŁn Derman started the company in the late '80s as an intricate, hand-painted, art-to-wear line of garments. In 1992, she opened a boutique in a small cottage nestled in a "niche" among the oak trees in Castle Hills, Texas. She soon added a ready-to-wear collection to her array of popular one-of-a-kind garments.

NilgŁn is a native of Istanbul, Turkey, and holds a master's degree in industrial design, which influences the angular shapes and sophisticated sensibilities of the Niche collection. Her daughter Ay?e joined Niche as Creative Director in 1999 after graduating from UT Austin with a degree in business. Together with their close-knit team, the mother-daughter duo designs an ever-expanding range of modern clothing for the stylish, world-traveling, fashion-forward woman.

In 2011, Niche moved to its new headquarters in a '40s-era Deco building, steps from the San Antonio Riverwalk, the historic Pearl Brewery, and the San Antonio Museum of Art. The Niche collection continues to draw inspiration from this energetic district of culture, creativity, cuisine, and fashion in the Alamo City.